CLICK ON THE
LINKS BELOW
TO ORDER NOW!
Send a stone gift instead of flowers!
Anything you want engraved in stone!
AnythingStone Plaque #6265


Anything Plaque. 1-4 Lines. Approx. 16" x 8" x 1/2" thick.

Just type something in, and we'll format and engrave it for you. Profanity... obscurity... poetry... anything goes on an Anything Stone!

Made from Palacio Travertine slab with tumbled edges, and sandblasted with approx. 1" tall numbers/letters(all capitals), painted black with Lithichrome paint, and sealed with polyurethane sealer. Palacio Travertine is a honed(not polished), marbled, earth-tone stone that varies in color. Example in photo above is approximate hue. Each custom plaque is hand-made from natural stone.

Plaque can hold up to 4 lines. Each line can hold up to 24 characters/spaces.
EXAMPLE: ALEXANDER, JAMES, & DAVE = 24 CHARACTERS/SPACES

Lines are centered. Capital letters only- all same size. Typestyle and black paint are exactly as shown. No custom layouts, typestyles, logos, or paint are available.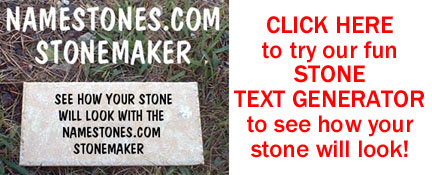 It's simple to order: "You type it... and we engrave it!"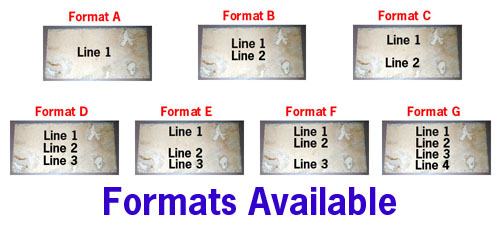 Format G is the most popular choice for anything plaques
Lightweight namestones install both vertically and horizontally
CLICK HERE for step-by-step installation instructions



FAST AND EASY 3-STEP AUTOMATED ORDER INSTRUCTIONS:

1. Click on the "Order Now" button below for the plaque selected:
1-line(Format A), 2-line(Formats B or C), 3-line(Formats D, E, or F) or 4-line(Format G).

2. A form will pop up(if you have trouble, try turning off your popup blocker).
On the form - fill in:
IS THIS A GIFT ORDER?
MESSAGE TO RECIPIENT IF APPLICABLE
EXACTLY WHAT YOU WANT ON EACH LINE OF PLAQUE SELECTED(24 characters/spaces max per line)
YOUR NAME
YOUR EMAIL
then click SUBMIT FORM.





3. A payment gateway form will come up. Click on "Add item to cart".
The payment gateway will send you to our credit card processing site, where you will enter your credit card and shipping info.

AFTER ORDERING, YOU WILL RECEIVE 2 CONFIRMATION EMAILS:
1. RIGHT AWAY: Email receipt for your credit card payment.
2. WITHIN 24 HOURS AFTER ORDER PLACEMENT: Email to confirm the information on the form you submitted.
IF THE INFORMATION IS CORRECT, DO NOT RESPOND TO THE SECOND EMAIL. IF YOU WANT TO MAKE CHANGES, REPLY TO THE EMAIL WITH THE CHANGES YOU WANT.

Approx. time from order placement to delivery: 1 week.

Arrives in cardboard box. Shipped by UPS Ground. Shipping wt. 15 lbs.

Pricing below includes FREE SHIPPING!